Our Company
Founded in 1990, we operate in the development and production of automotive equipments that become original parts in vehicle production lines, are sold as original accessories (OEM) or with TURY brand in the Aftermarket.
Our main R&D focus is to develop innovative products aimed at the automation, comfort and vehicle safety segments. We constantly develop products for new applications in order to expand our line and better match it to the demands in different continents.
Our main products are modules for the automation of power windows, with the differential of anti-crushing protection function (technology with international patent), closing of sunroofs, automation of rear view mirrors (folding and tilt-down functions) and original door locks, always focusing on comfort and safety. We also manufacture vehicle alarm devices.
Tury has a fuel division that offers complete solutions for the adaptation of original gasoline, ethanol or flex fuel (gasoline and ethanol) engines to use vehicle natural gas (VNG) instead.
Original gasoline engines can also be adapted to use Ethanol or a mixture of gasoline and ethanol in any share (flex fuel).
We work constantly so that our products comply with the vehicles owners' demands and their installations are simpler, respecting and keeping the vehicle original characteristics. TURY is a kind of company with high development capacity of new and complex products and is quality reference in the market. We operate in more than 30 countries in Latin America, North America, Africa, Europe and Asia and are synonymous with quality through our brand and products.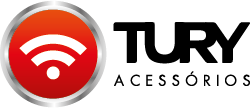 Infrastructure
Our industrial headquarter is located in São Bernardo do Campo, São Paulo, with a built area of 2.800 m2, where all our electronic central units and electric harness are produced, using high technology equipments like SMD, AOI, PTH and automatic terminal applicators.
All our products go through strict quality processes in in-circuit tests and devices developed by our engineering. Our production system guarantees excellent delivery time even for big quantity orders, ensuring supply security and inventory replacements to our customers.
Certifications
The company holds ISO9.001:2015 certification since 2010 and is about to obtain ISO14.001 and ISO16.949/TS certifications, in order to guarantee total quality control and supply security to our customers. Besides that, many of the technologies present in TURY various products received international patent of invention, recognizing its inventive and innovative character and ensuring protection against plagiarism and piracy.
---
Download certificates
Social Responsibility
Over the years, TURY has sponsored tens of non-governmental charity organization that act in social and environmental areas. Our main highlight is our support and funding to Escola da Terra (Earth School) as exclusive sponsor, that has allowed the deployment and maintenance of this initiative of educational purposes in the environmental sphere in São Paulo countryside.
Mor Information
www.escoladaterra.com.br
/escoladaterra